Texas' Top Rated Roof Cleaning
Roof Cleaning In Katy Texas
Does your roof have black streaks? We can clean it! Our low-pressure roof cleaning systems are designed to remove algae, mold, mildew, lichen and moss from your homes roof. We use a low-pressure method to apply our cleaning detergents to the roof, letting absorb bacteria then shortly after followed by a thorough rinse. Our roof washing is guaranteed to thoroughly clean your tiles or shingles while preserving the strength and lifespan of your roofing materials. Our #1 goal is to preserve the life of your roof adding years to its lifespan and saving you as much money as possible.
Benefits of Roof Cleaning In Houston
Improves your homes energy efficiency
Boosts your homes curb appeal and helps maintain its value
Protects your roof from potential harmful leaks and decay
Saves you thousands of dollars in the long-run
Having this service done will extend the duration of your roofs life and ability to function. By lack of maintenance, your home owners insurance can actually reject your claim for damages and make you pay out of pocket for repairs up to $10,000 or in some cases even more! Our Katy roof washing service will preserve your roof, beautify your home and protect your wallet. Roof washing In Houston and Katy TX is a much needed service for our residents, let us help you avoid the stress of replacing your roof and keep your home in good health.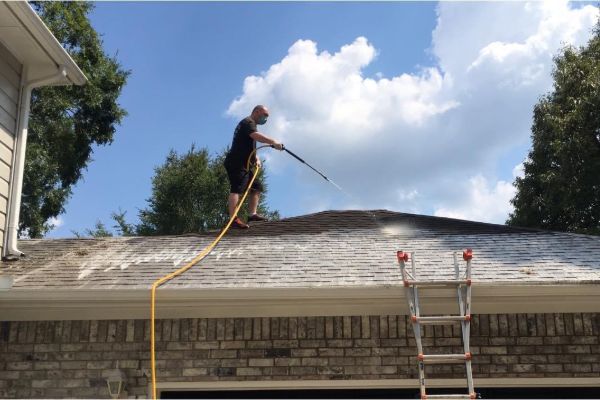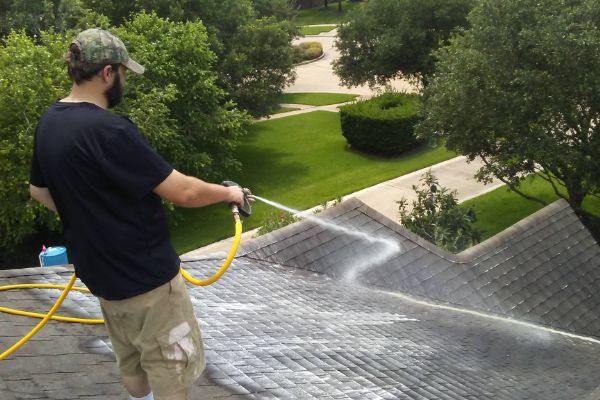 Best Roof Cleaning Katy TX Guaranteed
Your roof does not have to look dull, dingy and discolored. Our low pressure damage free soft washing techniques are capable of cleaning even the dirtiest of roofs, restoring there appearance and health back to a like new condition. Your roof plays an important role in your home's curb appeal and value so it's always recommended to have this service done to help give your home that major boost it needs to look its best.
We can provide excellent Katy roof cleaning and Houston roof washing services. Our various types of roof washing includes cleaning: asphalt & composite shingles, Spanish tile shingles, slate and metal roofs. No matter the type of roof you have we can restore it back to new condition with our #1 Katy roof cleaning services.
Restore Your Property Instantly!
We're Committed To Your Happiness
Super Awesome benefits for you to enjoy...
Ready To Restore Your Home?