Texas' Top Rated Power Washing & Pool Deck Cleaning
Driveway Power Washing In Katy Texas
Your driveway can be restored/cleaned back to its original, like new look! ​ Using our high-pressure methods along with certain degreasers and surface cleaners we are capable of cleaning all concrete and flat surfaces. This will remove all filth build up accumulated over time, restoring your driveway, sidewalks, patios and parking-lots to an unbelievably fresh new look! We offer this option to our residential & commercial clients.
Paver & Concrete Pressure Washing
Our concrete pressure washing guarantees instant gratification and restores its appearance to like new! Whether it's typical driveway/sidewalk concrete, pavers , flagstone or pebble stone, we have the ability, equipment and experience to revitalize the surface and make it look as it once did. When cleaning these types of surfaces, we first pre-treat the affected areas with concrete degreasers & algaecides that help lift the accumulated filth from the surface and also prevent it from returning. The next step would be to apply high pressure with surface cleaners that leave your concrete, pavers, flagstone or pebble stone surfaces smooth and unbelievably clean and filth free.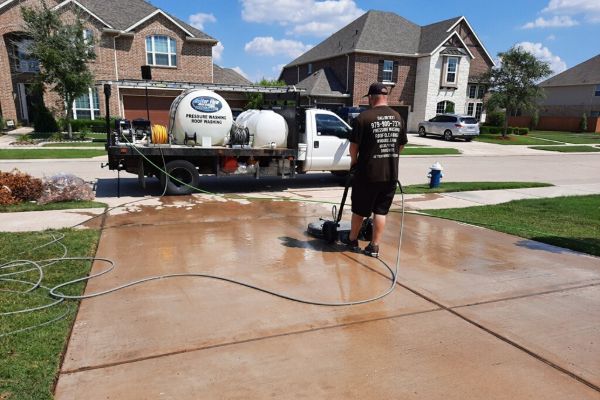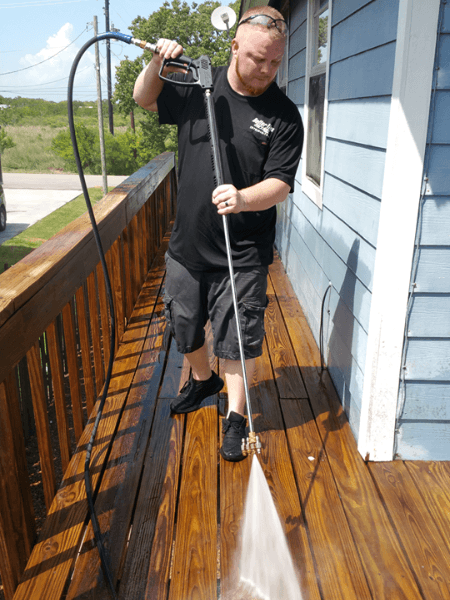 Power Washing Katy TX Experts
Trust the power washing Katy TX experts for your home! We offer exceptional driveway cleaning, deck cleaning, house washing, window cleaning and roof cleaning. Don't just hire the average Joe or handyman to clean your concrete. It takes years of experience and knowledge to know how to properly clean delicate surfaces such as concrete that can easily be etched and ruined if not handled properly and could end up being very costly in the end. When hiring Better View Services to complete your concrete cleaning project, we go above and beyond for our customers and always make sure there project is handled with the utmost care to deliver the best results possible. We don't just use water and pressure to clean your surfaces like most pressure washing companies. We stand out and over deliver by always applying algaecides and concrete brightener before and after the cleaning to prevent any further organic growth and filth from returning. So don't be the one that hired the handy man and was left with disappointing results and now has to hire the pros such as Better View Services. We are on stand by ready to show you why our company is the best at what we do. 
Restore Your Property Instantly!
We're Committed To Your Happiness
Super Awesome benefits for you to enjoy...
Ready To Restore Your Home?